You are here

Want To Own The Amazon Of Latin America? Checkout MercadoLibre
Want To Own The Amazon Of Latin America? Checkout MercadoLibre
Submitted by Silverlight Asset Management, LLC on December 18th, 2021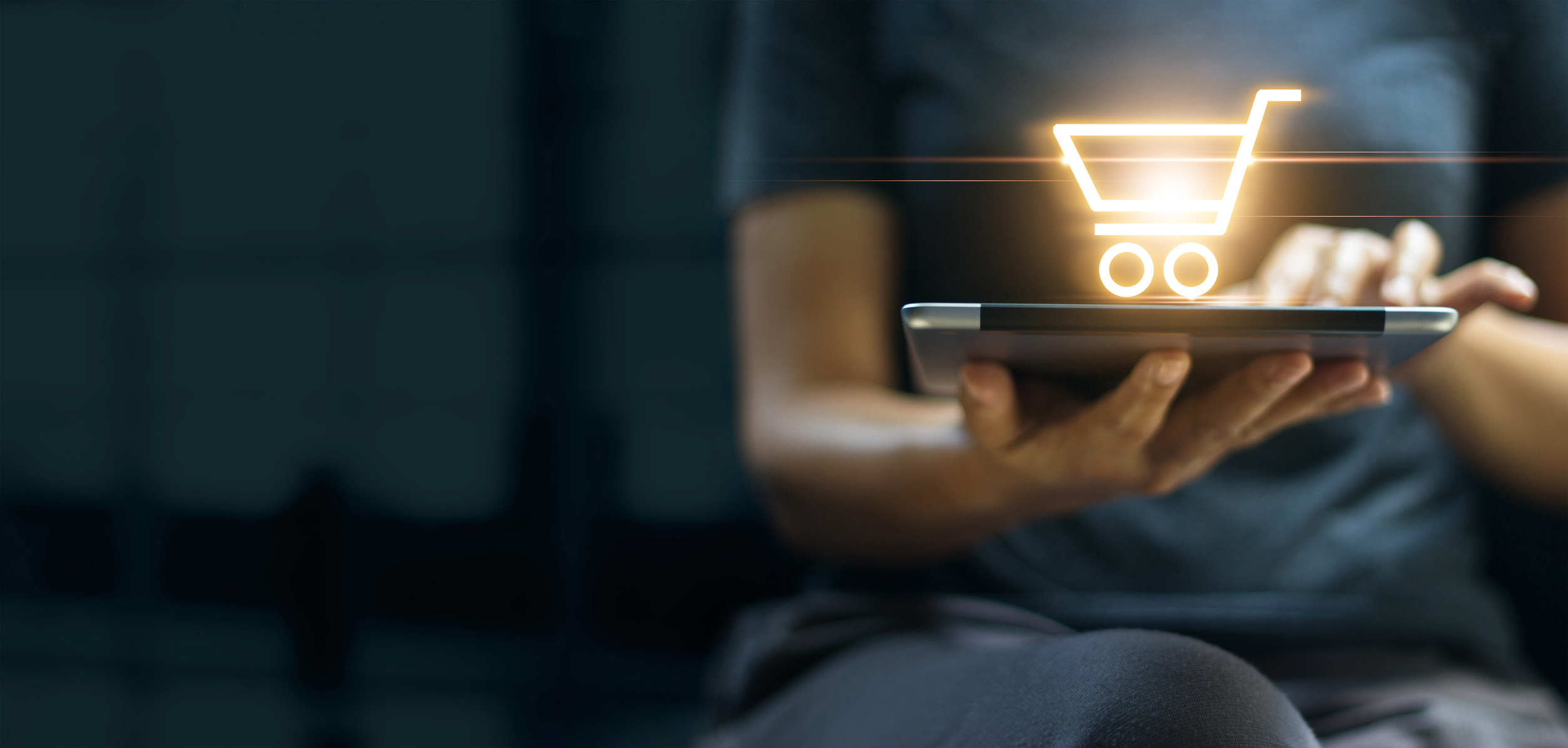 As 2021 winds down, many stocks are trading well off their year-to-date highs. One such example is MercadoLibre, Inc. (MELI), which as of this writing is down about 40% from its January peak.
MercadoLibre is widely considered the "Amazon of Latin America." The company is the largest e-commerce provider in the fastest growing e-commerce region in the world.
Per eMarketer, e-commerce sales in Latin America soared 63% last year, surpassing $100 billion for the first time. Note: this was five times greater than the 12.5% growth that was estimated for 2020 pre-pandemic. So, the 2020 pandemic seems to have fast-forwarded e-commerce adoption in this part of the world by a lot.
MercadoLibre's network of over 132 million active buyers is spread across an 18-country footprint, with most of its revenue derived from Brazil (55%), Argentina (25%) and Mexico (15%).
Over the last year, booming e-commerce sales helped drive 73% sales growth for MercadoLibre. By comparison, Amazon and Alibaba achieved 38% and 41% topline growth, respectively.
According to Bloomberg Intelligence analyst, Julie Chariell, MercadoLibre is poised to continue benefitting from e-commerce adoption amongst Latin American consumers. She writes, "E-commerce's penetration of retail sales in Latin America has significantly advanced since Covid-19 began, doubling to nearly 6%, and can approach 10% by 2025, in our view. Smartphone and digital-payment adoption are key drivers of e-commerce enablement, but stand where the U.S. was in 2013-14. About 50% of the LatAm population has a smartphone vs. 81% in the U.S., where e-commerce penetration exceeds 15%."
MercadoLibre currently has over 30% of Latin America's e-commerce market share. Below is a summary of market share by country, courtesy of Bloomberg.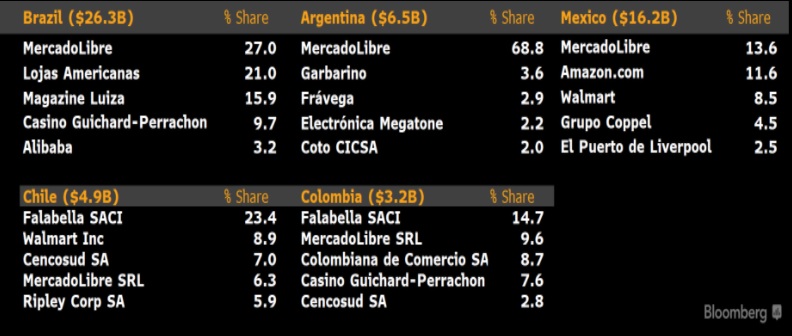 In recent years, MercadoLibre has also been leveraging its scale and network effects to develop complementary business lines. For example, the company has a fintech arm called Mercado Pago that is similar to payment services like PayPal and Square. Mercado Pago generates about 35% of overall revenue from its burgeoning payments business.
Fintech offerings help create stickier relationships with all the participants in MercadoLibre's ecosystem. Going forward, the company should benefit from a banking license, which should reduce funding costs as the company seeks to expand its range of financial products to include things like mortgages and auto loans.
According to JPMorgan's Latin America Equity Research team, management is forward thinking and optimistic about growth prospects related to crypto currency. Management mentioned at a recent Brazil Opportunities Conference that part of the treasury funds are invested in Bitcoin and Ethereum. The firm also has plans to offer cryptocurrency trading to millions of clients in Brazil.
So, why have MercadoLibre shares sold off this year?
Issues that have recently weighed on the share price include concerns about rising competition and the stock's relatively rich valuation.
Rival e-commerce player, Shopee (Sea Limited marketplace), has been gaining momentum in Brazil. Some investors are unnerved by the fact Shopee's app has garnered over 100 million downloads since January 2020. However, this still only puts Shopee at around 5% overall market share.
Like Amazon in the US, MercadoLibre has invested heavily to expand its logistical edge over competitors. MercadoLibre controls about 85% of its logistical network, which enables unparalleled delivery times across a wide range of products. For instance, whereas most Shopee products are delivered by third parties and take on average about two weeks to arrive, MercadoLibre can do same-day delivery for most products.
In terms of valuation, MercadoLibre shares may be considered cheap or expensive, depending on what measuring stick is used. For example, it's hard to argue any stock trading at a forward P/E of 385 is cheap. But then again, Amazon trades at a forward P/E of 82, and the stock has never been cheap on that metric.
Historically, a better yardstick for assessing Amazon's valuation has been sales metrics. This is because Amazon has consistently sacrificed short-term profit potential to reinvest aggressively in growing its scale advantage.
Bloomberg columnist, John Authers, recently penned an article that highlighted previous valuation troughs for Amazon relative to the S&P 500. He writes, "Buying Amazon at 30 or 40 times sales was, I contend, bonkers. Even though it worked out."
Authers then points out how buying Amazon when the price-to-sales multiple dipped closer to the broader market average has worked much better over time in terms of forward returns.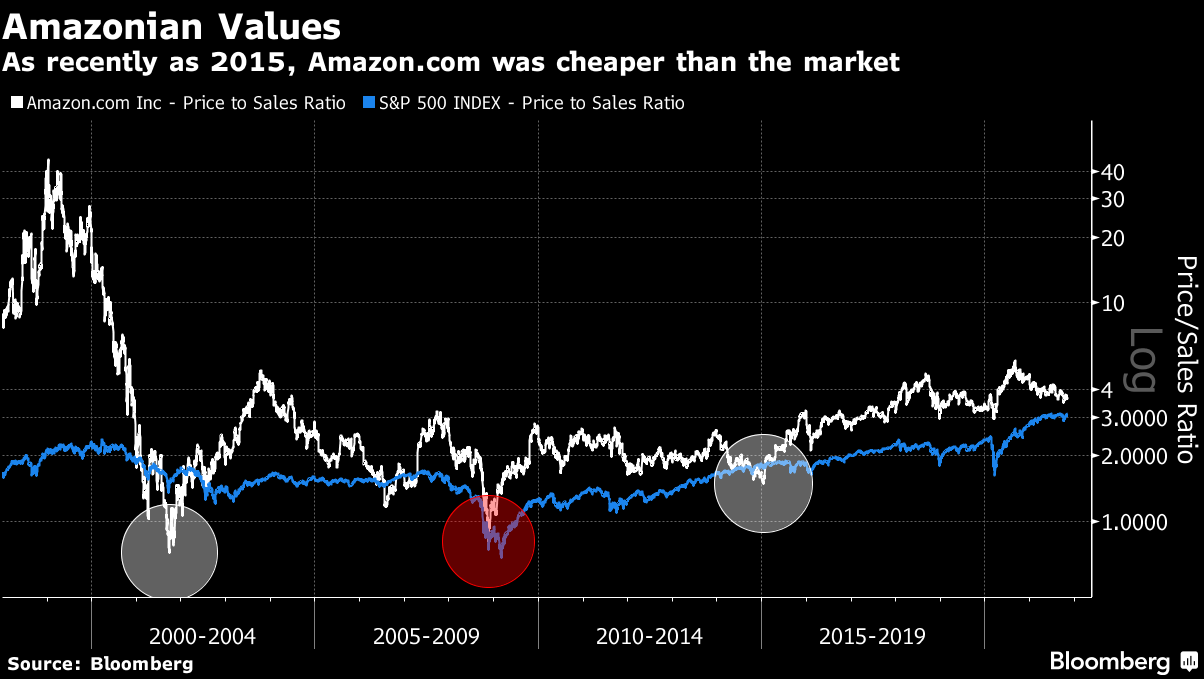 If MercadoLibre's valuation past is prologue, this may be an opportunistic entry point.
On an enterprise value basis, MELI shares recently traded at a 5.8x forward sales multiple. Note: this is 1.4 sigma cheaper than the 5-year average. A mean reversion to the average multiple of 9.3x would put the shares at a target price of $1,690 (+40% from the current price of $1,210.12).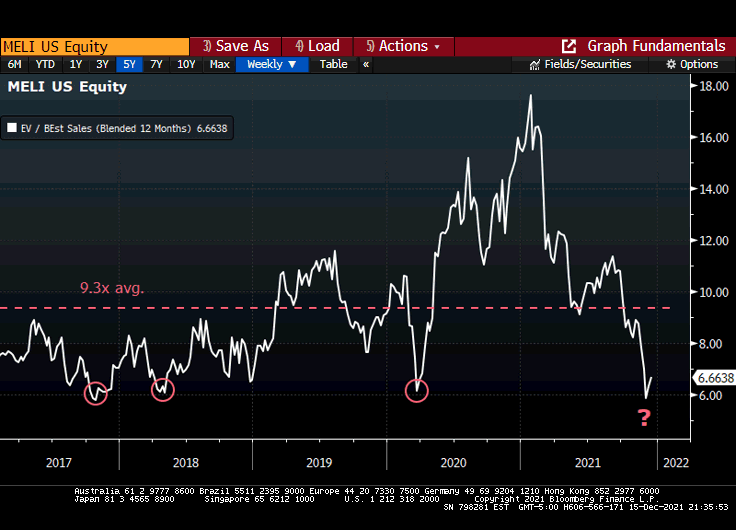 Since 2017, there have been three times when MELI's valuation multiple dipped near the present level (March 2020, April 2018 and October 2017). The one-year forward returns after those periods were +218%, +56% and +33%, respectively.
All in all, the growth prospects for MercadoLibre remain bright. The company will likely continue to grow at an above-average pace, which means the recent dip in the share price may offer long-term investors a rare opportunity to buy a high-quality compounder on sale.
Disclosure: I own shares of MercadoLibre in accounts that I professionally manage.
Originally published by Forbes. Reprinted with permission.
---
This material is not intended to be relied upon as a forecast, research or investment advice. The opinions expressed are as of the date indicated and may change as subsequent conditions vary. The information and opinions contained in this post are derived from proprietary and nonproprietary sources deemed by Silverlight Asset Management LLC to be reliable, are not necessarily all-inclusive and are not guaranteed as to accuracy. As such, no warranty of accuracy or reliability is given and no responsibility arising in any other way for errors and omissions (including responsibility to any person by reason of negligence) is accepted by Silverlight Asset Management LLC, its officers, employees or agents. This post may contain "forward-looking" information that is not purely historical in nature. Such information may include, among other things, projections and forecasts. There is no guarantee that any of these views will come to pass. Reliance upon information in this post is at the sole discretion of the reader.​​