You are here

As Stimulus Is Deployed, The S&P 500 Is Buzzing With Rotation Questions
As Stimulus Is Deployed, The S&P 500 Is Buzzing With Rotation Questions
Submitted by Silverlight Asset Management, LLC on March 21st, 2021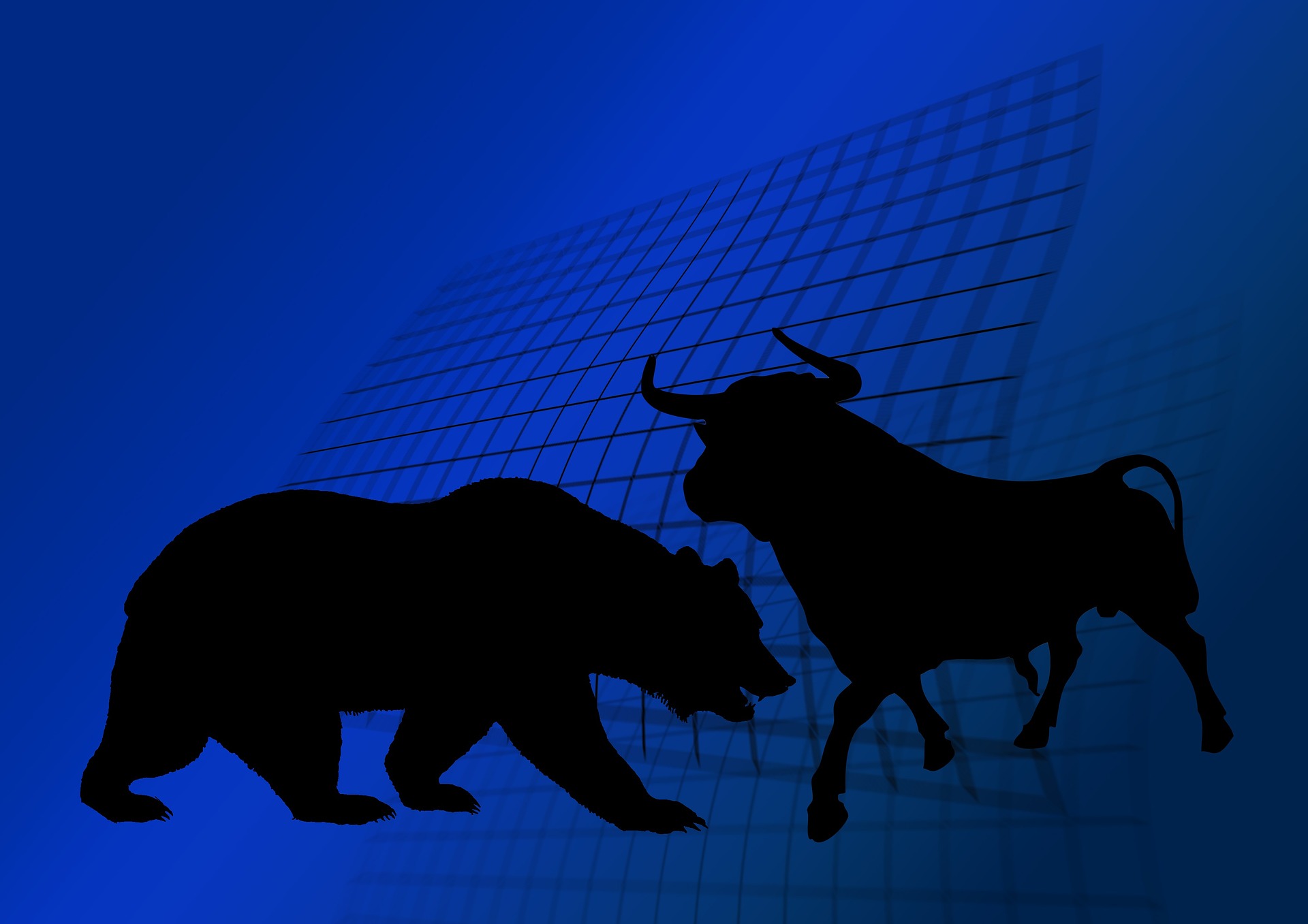 This week, $400 billion in direct stimulus payments began flowing into the bank accounts of US households, courtesy of the American Rescue Plan. The Treasury says $262 billion has already been dispersed with the remainder scheduled to go out in the coming weeks.
Any investor must wonder: where will this money go next?
"Stimulus checks could accelerate the large inflows into US equities seen in recent months after many years of weak flow data," according to Jim Reid, a strategist at Deutsche Bank. Stimulus recipients plan to invest varying amounts. A Bank of America survey found 9% of the overall funds will probably be invested.
Where this new cash is invested also matters.
Maybe the stimulus will provide the Retail Reddit Army just enough ammo to upend the recent rotation out of tech stocks into everything else? Or, perhaps they pivot to something new and accelerate this budding reflation trade?
Since it could go either way, my advice to all investors—private and professional—is to construct a portfolio that is 'antifragile'. If you're not already familiar with that term, you can checkout a nifty explanation here. The simple takeaway: embrace uncertainty and stay diversified.
Retail Investor Favorites
For a long time, Wall Street viewed retail investor flows as a contrarian indicator. Not anymore.
Day traders now drive 23% of trading volume, up from 14.5% in 2019 (source: Bloomberg Intelligence). The extra stimulus money shines an even brighter spotlight on this cohort.
One way to get a read on individual investors is the VanEck Vectors Social Sentiment ETF (ticker: BUZZ), sponsored by Barstool Sports founder and day trading guru, Dave Portnoy. After Portnoy advertised BUZZ to his 2.4 million social media followers, the ETF was able to rake in $438 million in just its first day of trading.
In terms of its selection criteria, BUZZ aims to capitalize on a mix of investor MOMO (momentum) and FOMO (fear of missing out).
Here's the technical explanation of the process:
BUZZ uses analytics models featuring Artificial Intelligence and Natural Language Processing technologies to scan over 15 million stock-specific online posts per month, identifying those stocks with the highest levels of aggregate investor sentiment. Each month, the 75 stocks with the highest scores are featured in the BUZZ Index and weighted according to their positive sentiment rank.
The ETF currently favors growthy technology firms and well-known consumer plays. Like many Robinhood portfolios, BUZZ also currently favors stocks with high momentum and volatility.
Top industry weights: Internet (20.1%), Auto Manufacturers (8.7%) and Semiconductors (8.1%).
Top five holdings: DraftKings (3.6%), Ford Motor (3.4%), American Airlines (3.0%), Twitter (3.2%), and Facebook (3.2%).
While investor sentiment may be positive on these areas for now, high momentum and growth stocks have been underperforming lately as bond yields rise. Over a span of just two weeks, the Nasdaq 100 Index erased its 2021 gains twice. Earlier this month, the benchmark fell as much as 11% from its February record high, shedding more than $1.5 trillion in value. Then, after a swift rebound, inflation concerns again rattled investors and pushed the Nasdaq 100 down as much as 3.2% on Thursday.
Over the last month, among the factor categories tracked by Bloomberg, the bottom 3 are: Momentum (-2.2%), Growth (-2.0%) and Size (-0.7%).
The top 3 factors over the last month are: Value (+3.9%), Volatility (+2.7%) and Leverage (+1.5%).
If we look at the factor exposures where BUZZ is overweight, we can see the ETF is heavily geared to momentum, size, and growth (i.e. factors that aren't working well lately). Meanwhile, BUZZ has relatively low exposure to value, volatility and leverage (i.e. three out of the top five factors that are working well lately).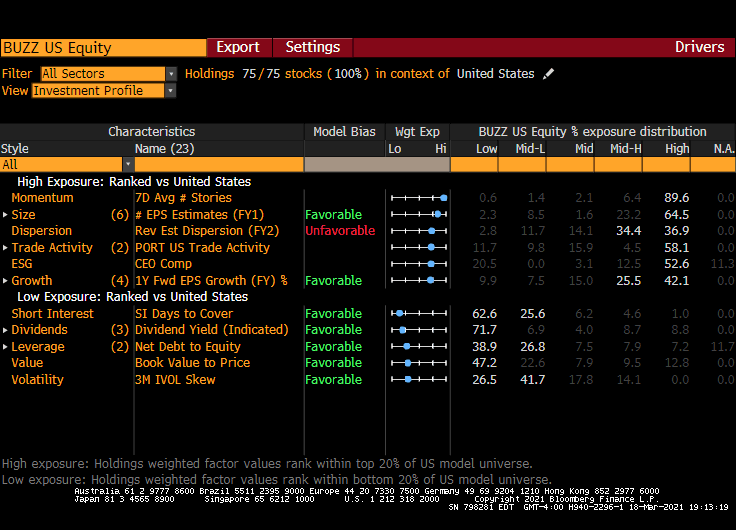 Source: Bloomberg
There is an anecdotal history of ETFs being launched near major tops for the categories they represent. It would be a shame if that happens to BUZZ. But it could happen if these lockdowns end and bond yields keep drifting higher.
The key takeaway from the Fed meeting this week was that Chairman Powell and company are okay with rates rising. For now, at least.
That's why I don't want to be overly long the Technology sector right now. As interest rates rebound from rock-bottom levels, high growth tech stocks are the most vulnerable because most of their value is derived from cash flows in the distant future, which get discounted more as rates rise.
On the other hand, I certainly wouldn't want to be short many popular tech names right now, either. Who knows how high a stock like GameStop can go if enough stimulus dollars are thrown at it?
Anti-fragile investors don't expose themselves to that kind of risk—they maintain a humble level of respect for uncertainty and do their best to risk manage it.
Will Retail Investors Rotate?
Of course, retail investors could always change up their playbook. They've done it before.
In an interview with Bloomberg Markets, Amy Wu Silverman, an options strategist from RBC, noted a recent pickup in bullish activity within the energy sector. "Bullish options positioning just hit a decade high. We also noted that, back in November, retail was perfectly willing to rotate from mega-cap tech—the 'work from home' names—into the 'vaccine recovery' names like consumer discretionary, cyclicals, and general value."
What if retail investors jump onboard the reflationary value rally?
The rotation to value has strong flows behind it. According to Bloomberg data, over $18 billion has gone into value ETFs this year—already a quarterly record.
"Though the value factor has disappointed several times over the past decade, we believe months of sustained outperformance could lead to breakout inflows for a handful of ETFs, similar to Ark's thematic lineup," says Christopher Cain, an analyst at Bloomberg Intelligence.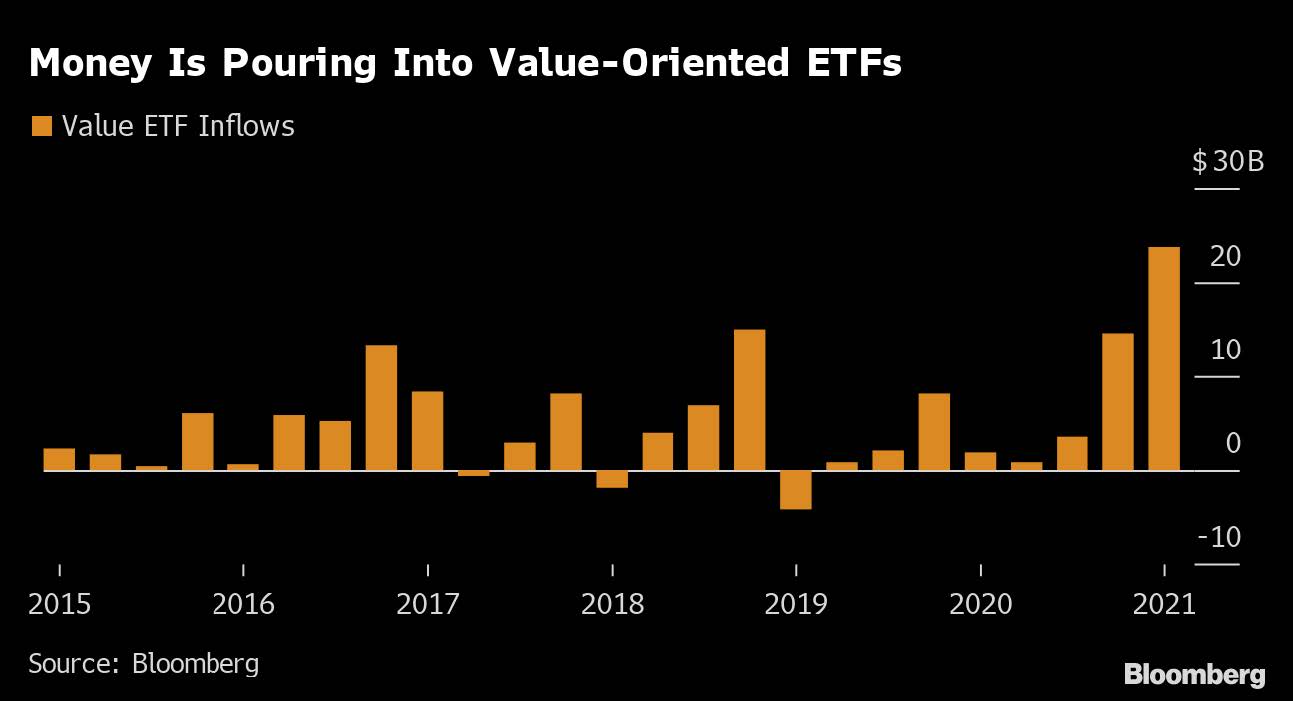 What's driving a leadership rotation out of growth funds into value stocks? To boil it down to a single word: inflation.
The chart below shows a 25% year-over-year spike in M2 money supply (red line), which is positively correlated with the trajectory of consumer price inflation (blue line) using a 12-month lag.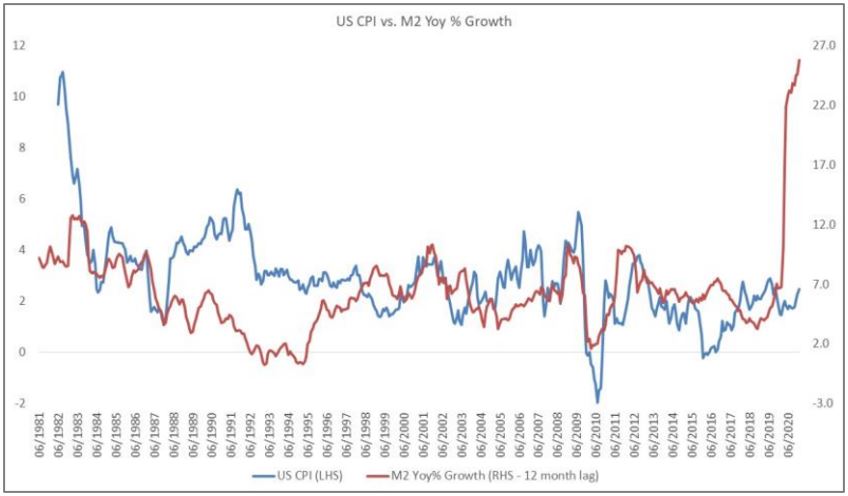 Source: Credit Suisse HOLT
Money supply was already surging at an unprecedented pace, and this was before the $1.9 trillion fiscal stimulus package was unleashed.
Inflation is bad for bonds, generally speaking. And when fixed income investors shun long-term treasuries due to inflation concerns, the yield curve (difference between short-term and long-term rates) usually steepens.
In prior episodes of yield curve steepening, the Information Technology sector and Communication Services have been consistent underperformers. Consistent outperforming sectors during yield curve steepening regimes have included a mix of defensive and reflationary sectors, as shown below.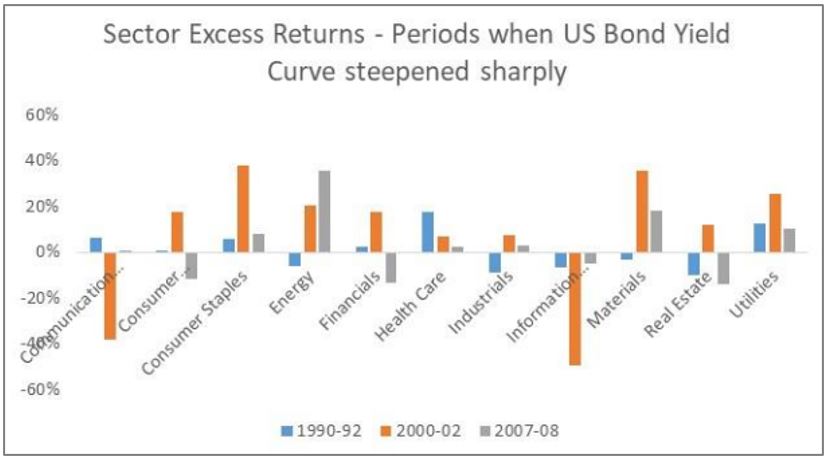 Source: Credit Suisse HOLT
If retail investors wish to hedge inflation risk with part of their stimulus funds, it may be wise to favor some sectors the BUZZ ETF is presently underweight.
When unprecedented trends erupt in a key variable like money supply, it pays to invest more humbly. Don't be too bullish or bearish anything. Stick to a proper benchmark based on your financial goals.
***
The keys to winning long-term as an investor are always staying in the game and positioning in a manner that maximizes opportunities to win and minimizes the collateral damage when you lose.
I favor a barbell approach for this environment.
My preferred cyclical sectors are: Industrials, Materials and Energy. Each of these sectors should prosper if the reflation theme continues.
In case there is a snapback to deflation or stagflation later this year, I like hedging the cyclical risk of the above-mentioned sectors with exposure to Health Care and Consumer Staples, which are traditionally more defensive corners of the market.
Originally published by Forbes. Reprinted with permission.
---
This material is not intended to be relied upon as a forecast, research or investment advice. The opinions expressed are as of the date indicated and may change as subsequent conditions vary. The information and opinions contained in this post are derived from proprietary and nonproprietary sources deemed by Silverlight Asset Management LLC to be reliable, are not necessarily all-inclusive and are not guaranteed as to accuracy. As such, no warranty of accuracy or reliability is given and no responsibility arising in any other way for errors and omissions (including responsibility to any person by reason of negligence) is accepted by Silverlight Asset Management LLC, its officers, employees or agents. This post may contain "forward-looking" information that is not purely historical in nature. Such information may include, among other things, projections and forecasts. There is no guarantee that any of these views will come to pass. Reliance upon information in this post is at the sole discretion of the reader.​​