You are here

Preserve Your Past To Create A Compelling Retirement Plan
Preserve Your Past To Create A Compelling Retirement Plan
Submitted by Silverlight Asset Management, LLC on November 27th, 2019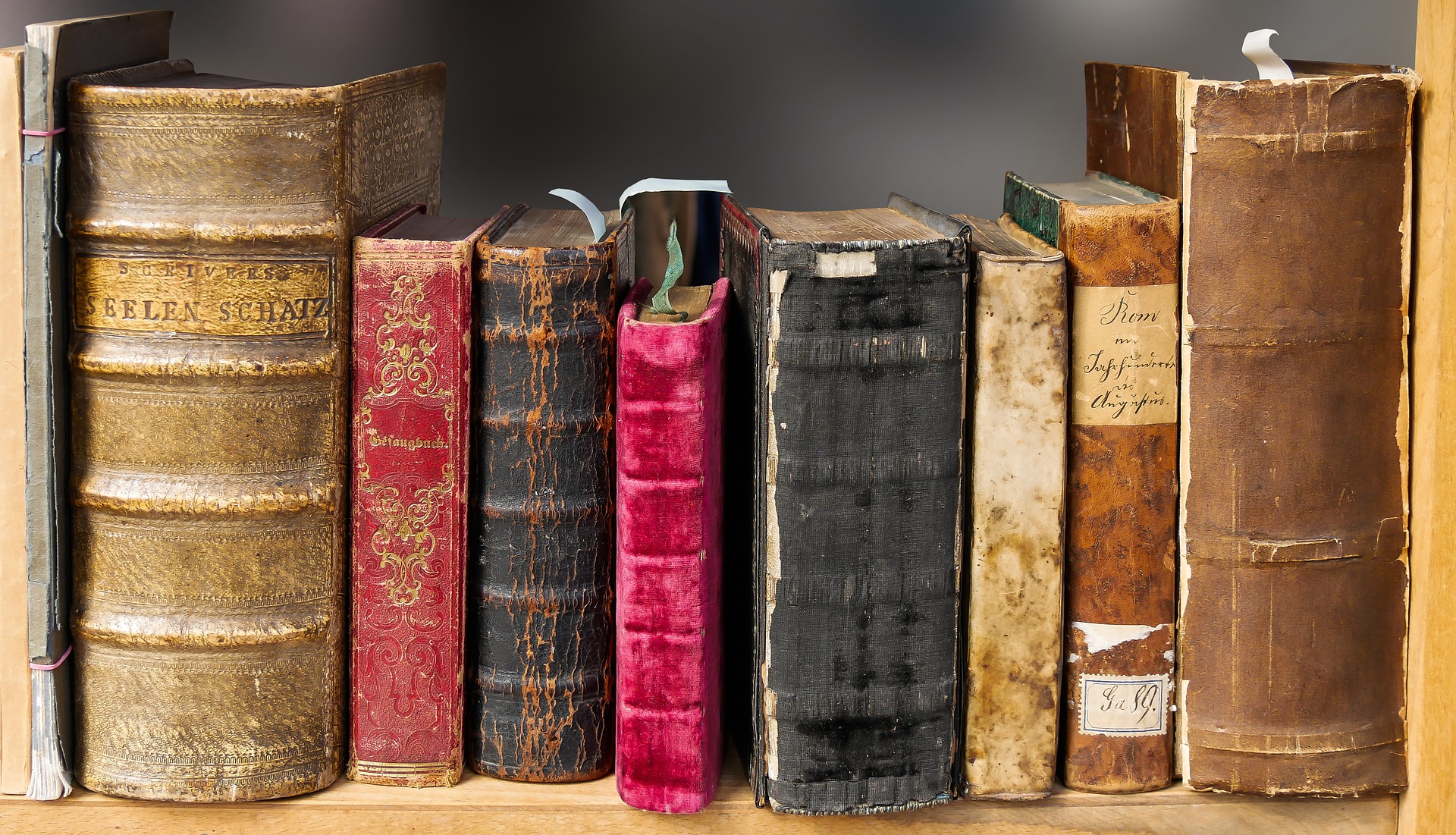 If you don't know where you're going, any road will get you there.

- Lewis Carroll
---
The most common financial questions involve the word "enough."
Do we have enough? Will we have enough? That's what most people want to know.
Another question must be answered first, though, and that is: "Enough for what?"
Many people haven't seriously pondered this question. Or maybe they have, but answers drift depending on which day of the week it is.
Fuzzy goals make it hard to craft the right retirement plan. That's why taking time for introspection about what you aim to fund is a prerequisite to understanding if you'll have "enough."
Progress Equals Happiness
The most common money goal is a desire for more.
Michael Norton is a Harvard Business School professor who studies the connections between happiness and wealth. Norton says one of the central questions people ask when determining how satisfied they are with something in their life is: Am I doing better than I was before?
In a 2018 paper, Norton and his colleagues polled over 2,000 people whose net worth exceeded $1 million. They asked two questions:
1) How happy was the subject on a scale of 1-10?
2) How much more money would they need to rate themselves at a 10?
"All the way up the income-wealth spectrum, basically everyone says [they'd need] two or three times as much" to be perfectly happy," Norton said in an interview with The Atlantic.
So, even millionaires still want more.
Guess what?
So do billionaires.
That doesn't make them greedy. It makes them human.
If a shark stops swimming forward, they stop breathing. Human psychology functions similarly. Progress equals happiness.
Earlier this year, Paul McCartney told 60 Minutes he still writes songs. The interviewer was quite surprised when McCartney shared that he still gets nervous hoping people will like his new material.
"I think his insecurity is eternal, and that he just wants to make sure that he continues to move the ball forward," said a 60 Minutes producer, reflecting on the interview. "He's had all these unbelievable hits, yet he still needs to make music."
McCartney isn't the only member of The Beatles who battled insecurities well after the band became famous. McCartney got momentarily choked up recounting an exchange with John Lennon. "I worry about how people are going to remember me," Lennon once confided to him.
Whether you're a rock legend, or a lonely soul like Eleanor Rigby, we're all similar in that we crave progress and meaning in our lives.
That's why financial planning isn't just about money. It's also about the satisfaction that comes from continuing to grow and have a positive impact.
Clarifying Your Story
Many folks feel overwhelmed thinking about the future. We all operate in foggy waters, lacking a precise compass.
There is no financial state, or "magic number," that provides anyone eternal bliss.
And financial advisors don't help when they use empty words to describe goals. Phrases like: "maximize terminal value" and "moderate risk-tolerance" carry little meaning for an average person.
Everyone has a story about money told in their own words. What it means to them, why it's important, and the purpose it serves.
If you want to build wealth to create a richer life, it's important to understand your story.
Preserving your past is about honoring who you are, where you are, and converting those truths into building blocks to manifest your vision of a compelling future.
Every new beginning comes from some other beginning's end.

- Seneca
There is a ton of value in your past, if you embrace it.
Through your experiences, you learned valuable skills and developed core values. You discovered what you like and don't like. What you're good at and bad at.
All these insights about yourself are now assets that you can leverage to enrich future chapters of your life.
Here's a brainstorming exercise to help with that. Think of a time in the past when you were in a peak state. A magical memory when you were totally thriving, happy and fulfilled.
· Where were you?
· What were you doing?
· Who were you with?
· What made you feel so good in that moment?
· Did you buy something?
· Travel somewhere?
· Become or achieve something?
· Give something away?
If you invest time to revisit special memories, you will likely notice patterns. Certain emotional factors play a recurring role.
What this exercise does is "back-test" your personal happiness triggers. That serves as an excellent launchpad to brainstorm new goals to pursue in the future.
Money is not a destination. Money is a resource to fund a continuous journey toward the lifestyle and legacies we aspire to.
I like to think of financial goals as "mountains" we climb.
At each summit, there isn't a particular sum of money, but rather an experience. Life is a series of moments, and those are what we should seek to maximize. The thing we're all chasing, really, is quality time.
Quality time means rich experiences that create magic memories. "Life returns," essentially.
Introspection of our past helps connect the dots to a compelling future.
What's Your Mountain?
One thing that made The Beatles, The Beatles, was their unique storytelling ability. They leveraged inspiration from their past to tell new, authentic stories that moved people. Many of their songs were about key elements that define the human experience.
Penny Lane and Strawberry Fields were songs inspired by real places where McCartney and Lennon grew up.
In the song "Eleanor Rigby," the "Father McKenzie" was originally "Father McCartney." Paul slightly changed the name, because he didn't want people to think he was singing about his Dad.
Even if we don't write music, we can replicate the mental model of using special moments from our past to inspire new chapters in our life. Here's an example of how that process can start.
Meet Paul McKenzie. A fictional guy in his 50s, trying to figure out a more meaningful set of financial goals than simply "retiring at age 65."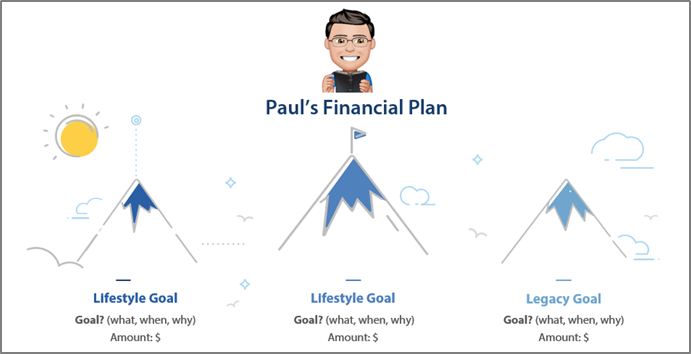 Paul is reading a book, because he's reviewing the story of his past.
That's helping him discover elements of his "core story" he wants to preserve, while inspiring themes and ideas for the next chapters.
The mountains symbolize:
Short-term lifestyle goal (1 - 5 years)
Longer-term lifestyle goal (5 - 20 years)
Legacy goal
It's important to make each goal specific and actionable. "What, when and why" are three questions to help do that.
It also helps to frame each goal as an experience, with sensory details to make them vivid and inspiring.
For lifestyle goals, it helps to picture yourself engaging in particular activities, so you can become more emotionally associated.
Giving back is another universal happiness trigger. That's where legacy goals come in.
After the "what, when and why" are figured out, we can attach numbers to our goals. From there, we can reverse engineer assumptions necessary to write those future chapters. This often entails a savings and investment return goal.
Using financial planning software, we can also forecast the probability of success using our assumptions, and plug and play different investment vehicles and tactics.
Many folks do financial planning backwards. They focus right away on strategies and tactics, when the first step should be identifying goals worthy of pursuing.
This Thanksgiving, as you contemplate what you're most thankful for in your life, see if you can use that as a launchpad to imagine three authentic goals that inspire you.
If you can create those magnetic experiences in your mind, it becomes easier to figure out the "how," because you'll be motivated to persevere until you do.
Originally published by Forbes. Reprinted with permission.
---
This material is not intended to be relied upon as a forecast, research or investment advice. The opinions expressed are as of the date indicated and may change as subsequent conditions vary. The information and opinions contained in this post are derived from proprietary and nonproprietary sources deemed by Silverlight Asset Management LLC to be reliable, are not necessarily all-inclusive and are not guaranteed as to accuracy. As such, no warranty of accuracy or reliability is given and no responsibility arising in any other way for errors and omissions (including responsibility to any person by reason of negligence) is accepted by Silverlight Asset Management LLC, its officers, employees or agents. This post may contain "forward-looking" information that is not purely historical in nature. Such information may include, among other things, projections and forecasts. There is no guarantee that any of these views will come to pass. Reliance upon information in this post is at the sole discretion of the reader.​​