You are here

The New York Knicks Are In The Playoffs And On Sale
The New York Knicks Are In The Playoffs And On Sale
Submitted by Silverlight Asset Management, LLC on May 10th, 2023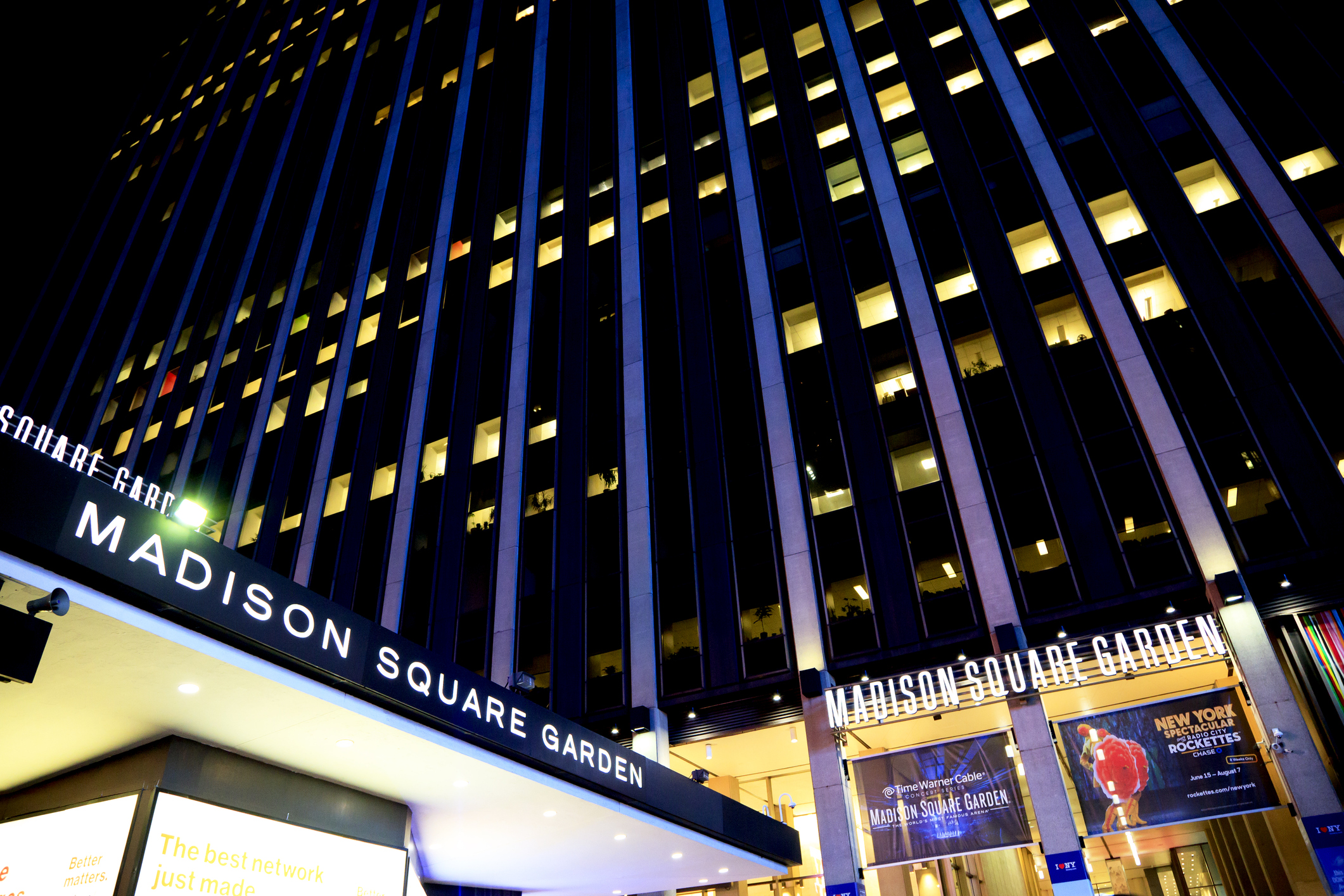 What if you could own part of a premier NBA franchise for just $200? Well, you can.
Madison Square Garden Sports (ticker: MSGS) is a publicly traded stock on the New York stock exchange that provides investors fractional ownership in the NBA's New York Knicks and the NHL's New York Rangers.
The stock trades at around $200 per share, which equates to an enterprise value (EV) of approximately $5.9 billion. MSGS presents an intriguing value opportunity considering Forbes estimates the private market value (PMV) of the Knicks and Rangers to be $8.3 billion.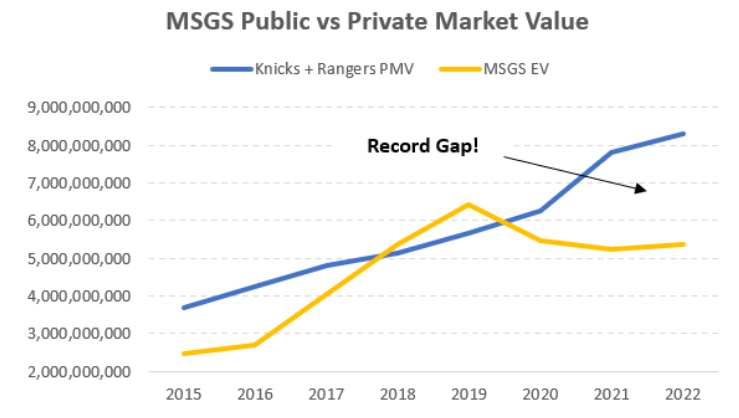 Source: Bloomberg
The Knicks are currently competing against the Miami Heat in the Knicks' first semifinals playoff appearance in a decade. Generally, the more often a team wins, the more valuable it becomes. Making the playoffs this year will also directly impact revenue.
JPMorgan analyst, David Karnovsky, estimates the financial contribution from the Knicks and Rangers' both making it to their respective first round playoff series this year will add approximately $35 million in addition revenue. He wrote in an April report, "In addition to immediate contribution for the quarter, we expect making the playoffs will have positive knock-on effects for the next fiscal year, including higher season and retail ticket pricing, and greater demand from corporate partners for sponsorship or suites."
Led by rising stars such as Jalen Brunson and RJ Barrett, the Knicks have a young and ascending team. Madison Square Garden Sports shares have also been ascending lately, up about 11 percent year-to-date.
In addition to the team winning more ballgames this year, another positive catalyst that's helping drive a positive re-rating in the stock is a string of record sale prices for other prominent sports franchises. With sports teams, comparable sales tend to be a better gauge of intrinsic value than a traditional discounted cash flow analysis.
The NBA's Phoenix Suns recently sold for a record-setting sum of $4 billion.
The NFL's Washington Commanders recently received an offer for a record-setting sum of $6.05 billion.
The Premier League's Manchester United club is fielding offers for a record-setting sum of $6.3 billion.
In the pro sports world, location matters quite a lot.
It's hard to overstate the value of owning two iconic teams located in the richest city of the wealthiest country in the world. Since there's a limit on how many pro teams are normally allowed to occupy one city, scarcity value is a primary factor that makes MSGS's New York City teams uniquely well positioned as long-term investments.
Being located in New York City helps the Knicks and Rangers secure relatively richer media rights to broadcast games. Across the major sports leagues, the biggest city teams earn the highest premiums because they boast the largest audiences. This explains why Forbes estimates the Knicks and Rangers to be the most valuable NBA and NHL teams, respectively.
The NBA's national media rights deals with Disney and Warner Media extend through the 2024/2025 season. After that, a favorable jump in the renewal rate is expected. The last time the contract reset was after the 2016-2017 season, when it jumped from $925 million to $2.67 billion.
Professional sports is one of the last bastions of reliable programming that providers can count on to steadily draw viewership. Thus, competition amongst major streaming platforms will likely push prices materially higher at the next renewal. Deep pocketed players such as Amazon and Apple will
be vying to secure exclusive broadcasting rights, along with traditional cable providers such as the Turner Network and ESPN.
The NBA's demographic appeal also makes it a uniquely attractive league in the eyes of broadcasting partners. Fans skew younger compared to other sports, which bodes well for brand continuity long into the future.
That said, anytime you invest in anything, it's important to account for what could go wrong.
In my view, the biggest risk to investing in MSGS is that it ends up being a value trap. This happens when an investor buys a stock because it appears cheap relative to underlying fundamentals, but it then fails to perform well because there isn't a sufficient catalyst for the valuation gap to shrink.
There are two reasons why MSGS may trade at a material discount to its private market value.
First, there's a perception of a 'Dolan Discount'. Madison Square Garden Sports' executive chairman, James Dolan, isn't winning any popularity contests with fans. That could potentially be weighing on the company's valuation. Based on his public comments, Mr. Dolan appears to enjoy owning the team, so one should expect he probably isn't going anywhere anytime soon.
In the event there isn't an outright sale of the team at a premium price, the only other way to win with MSGS is if the public markets continue to rerate the shares positively.
A second reason why the private market and public market values may be disconnected has more to do with the plumbing of the current capital market system.
Nowadays, approximately 57% of the US stock market is passively owned by the likes of firms like Vanguard and BlackRock.
Whereas the average US stock has 19% of its shares owned by passive funds according to Bloomberg, MSGS has only 12% passive ownership. That means MSGS is under represented in many of the passive funds that get automatic flows every time people contribute to their 401(k)s.
Even if the Knicks were to win the NBA championship this year (unlikely), there are no guarantees the valuation gap between the private and public market value will close. However, one classic signal of a value trap is a poor technical trend, and that's the direct opposite of what we're seeing in MSGS' chart lately.
As shown below, MSGS recently broke above a downward sloping trendline from the 2018 high. In my view, this indicates the supply and demand balance may now be shifting from a multi-year bear market to a multi-year bull market.
Win or lose in the playoffs, MSGS is a stock to keep an eye on.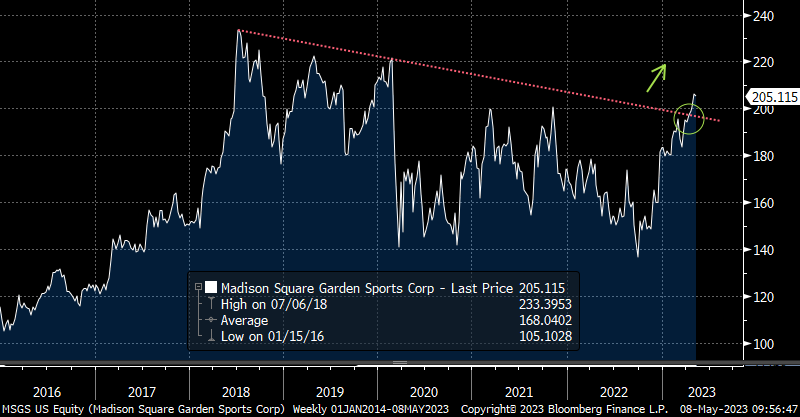 * Originally published by Forbes. Reprinted with permission.
---
Disclosure: I own shares of Madison Square Garden Sports in client accounts that I professionally manage. This material is not intended to be relied upon as a forecast, research or investment advice. The opinions expressed are as of the date indicated and may change as subsequent conditions vary. The information and opinions contained in this post are derived from proprietary and nonproprietary sources deemed by Silverlight Asset Management LLC to be reliable, are not necessarily all-inclusive and are not guaranteed as to accuracy. As such, no warranty of accuracy or reliability is given and no responsibility arising in any other way for errors and omissions (including responsibility to any person by reason of negligence) is accepted by Silverlight Asset Management LLC, its officers, employees or agents. This post may contain "forward-looking" information that is not purely historical in nature. Such information may include, among other things, projections and forecasts. There is no guarantee that any of these views will come to pass. Reliance upon information in this post is at the sole discretion of the reader.​​