You are here

Morningstar Sees Opportunity In The Credit Market Everyone Is Worried About
Morningstar Sees Opportunity In The Credit Market Everyone Is Worried About
Submitted by Silverlight Asset Management, LLC on May 31st, 2019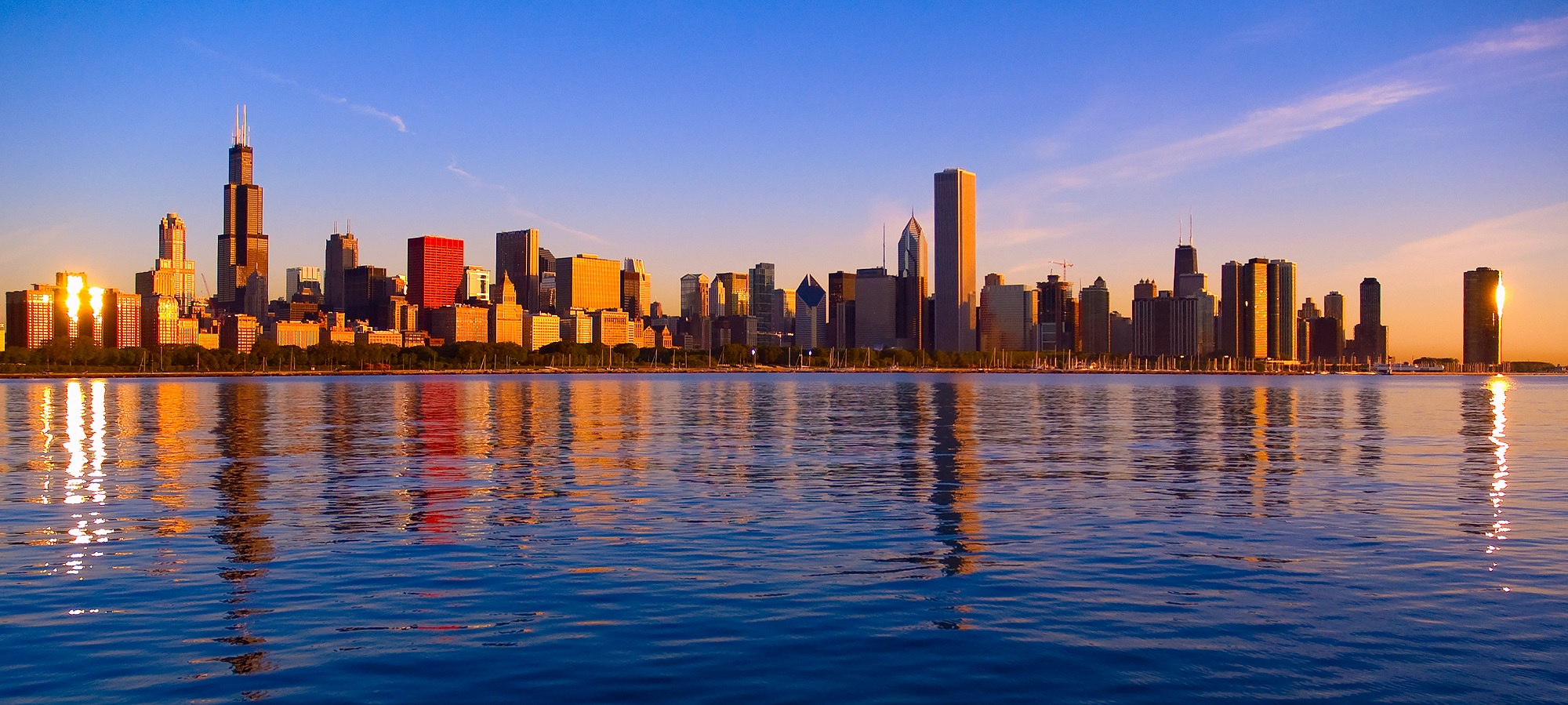 Morningstar Inc. is looking to shakeup the credit rating industry. The company's timing couldn't be better.
"We have probably the riskiest credit market that we have ever had,'' Scott Mather told Bloomberg Television on Wednesday. Mather is Chief Investment Officer of U.S. core strategies at the bond giant, PIMCO. He and his colleagues see a lot of disruption potential in financial markets over the coming years.
"We see it in the buildup in corporate leverage, the decline in credit quality, and declining underwriting standards -- all this late-cycle credit behavior we began to see in 2005 and 2006,'' said Mather.
On the same day as Mather's interview, Morningstar -- an independent research and data provider based in Chicago -- announced it is acquiring DBRS Ltd., the world's fourth-largest credit ratings agency. The $669 million deal will be financed with a mix of cash and debt.
There's a lot to like about this deal, from multiple angles.
Why The Deal Makes Sense For Morningstar
Joe Mansueto was a 27-year old stock analyst when he founded Morningstar 35 years ago. There were initially seven employees who worked out of Mansueto's apartment.
Mansueto's vision was to empower investors by democratizing investment research. He saw an information gap. Independent advisors and mutual fund investors were making bad decisions, because they lacked quality information sources.
Morningstar launched near the dawn of the modern mutual fund era. Back then, there was about $300 billion parked in such funds. Today, the total amount invested in mutual funds has mushroomed to over $16 trillion.
Independence is key to Morningstar's value proposition. Historically, a lot of Wall Street research has been biased by investment banking relationships. Analysts skew toward Buy ratings on companies, partly to stay in favor with executives who might one day hire their firm to advise on a capital markets transaction.
Morningstar is paid by its subscribers. And the firm has gradually built a trusted following by steering investors straight with their analysis. Morningstar is not only a thought-leader in equity research, based on their 'economic moat' framework, but they also pioneered objective third-party analysis of mutual funds. Nowadays, when Morningstar slaps a Five-Star Rating on a fund, asset flows tend to follow.
Over the years, the company has opportunistically expanded into new verticals. Current offerings include investment management, global research coverage of public and private markets, and an array of technology products that help advisors work better with clients.
Morningstar first expanded into bond underwriting in 2009. Adding DBRS will likely increase Morningstar Credit Ratings (MCR) from approximately 4% of overall company revenue to around 17%.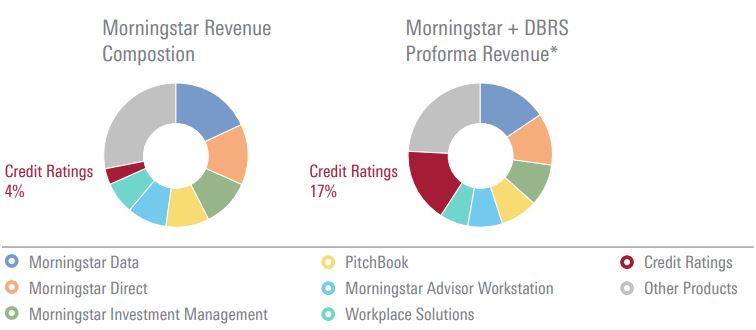 Estimated revenue composition of the combined entity. Source: Morningstar Letter to Shareholders, May 29, 2019
In a letter to shareholders, CEO Kunal Kapoor said the DBRS deal is the firm's "largest acquisition to date and a strong signal of our intent to develop a fintech ratings agency known for its robust analysis, technological innovation, and commitment to empowering investor success."
Kapoor estimates global credit underwriting to be an $8 billion market, growing 7% annually over the last decade. The industry functions as a duopoly, which S&P and Moody's dominate. Those two firms combined provide over 80% of all bond ratings issued.
Lack of meaningful competition enables both firms to consistently earn outstanding returns on capital, paving the way for huge outperformance in both stocks. Over the last ten years, S&P Global (SPGI) delivered 26.2% annualized returns to shareholders. Moody's (MCO) wasn't far behind, returning 24.3% per annum.
DBRS trails the industry giants by a mile in terms of market share. But the Canadian firm has managed to carve out a specialty niche. Several competitive advantages make it a highly profitable franchise, including a strong reputation for rating asset-backed securities (ABS), sticky client relationships, and a positive relationship with European regulators.
If any firm is poised to disrupt the cushy environment enjoyed by S&P and Moody's, it could be the Morningstar/DBRS combination. It won't be easy. And it won't happen overnight. But there's potential to take share over time. Morningstar has some scale muscle it can flex, and the firm's longstanding ethos of transparency and independence is the right prescription for an ailing credit rating landscape.
Competition Is Exactly What The Credit Rating Industry Needs
The fact that S&P Global and Moody's have generated some of the best returns in the market over the last decade definitely has some irony attached to it.
After all, weren't these two of the villains from the Great Financial Crisis we experienced in 2008? Weren't these the companies blamed for being asleep at the switch, improperly rating the risk-profiles of bundled subprime mortgages?
A funny thing happened post-crisis, though. Bond issuers kept going to S&P and Moody's for ratings. And regulations, like the Dodd-Frank Act, had the unintended effect of further shielding S&P and Moody's from competition. Owing to their size advantage, it was easier for them to absorb rising compliance costs compared to smaller peers.
What happens when bad behavior is rewarded? More bad behavior.
Yet this time around, the inflated credit ratings aren't so much in mortgage bonds, but rather in the corporate bond market.
In a recent webinar, Jeffrey Gundlach -- aka "The Bond King" -- talked about how corporate credit as a percent of GDP is at an all-time high. And he drew a comparison to the previous cycle with the following chart.

U.S. Corporate Debt vs Sub-Prime Mortgages. Sources: DoubleLine Funds, Mauldin Economics
Gundlach sees heavy complacency in the corporate bond market. Credit spreads are too thin relative to debt levels. He cited a Morgan Stanley analysis indicating that based on current leverage ratios, 38% of investment grade bonds should be rated junk.
Gundlach doesn't perceive corporate bonds as overvalued as subprime mortgages were. But he pointed out the corporate bond market is five-times larger. Hence, the macro impact from a credit downgrade cycle could be significant.
So, it appears weak credit rating standards may once again be setting the stage for a serious dislocation. The timing is uncertain. The epicenter of the problem is different. Yet the source of the problem is similar.
S&P and Moody's are hesitant to mark down investment grade bonds for the same reason many Wall Street analysts avoid issuing Sell Ratings on stocks they cover. They don't want to disrupt the gravy train.
Enter Morningstar as a potential disrupter. The same problem Morningstar sought to address 30 years ago with mutual funds -- i.e. poor information flow causing a widespread misallocation of capital -- now permeates the bond market.
It won't be easy for any new entrant to infringe on S&P and Moody's turf. But Morningstar is clearly drawing a line in the sand and going to try. If they succeed, it could bring a free market solution to a problem regulators tried to address, but only exacerbated.
Near the end of his letter to investors, Mr. Kapoor writes:
Together, DBRS and Morningstar can fulfill growing demand for differentiated fixed-income data, research, and analytics, a powerful secular trend that could serve as the backbone for change in the industry. Despite increased calls for transparency since the financial crisis, we do not believe there has been adequate change to restore investor trust.
Go get 'em, Mr. Kapoor.
Originally published by Forbes. Reprinted with permission.
---
Disclosure: I own Morningstar (MORN) shares in accounts I professionally manage. This material is not intended to be relied upon as a forecast, research or investment advice. The opinions expressed are as of the date indicated and may change as subsequent conditions vary. The information and opinions contained in this post are derived from proprietary and nonproprietary sources deemed by Silverlight Asset Management LLC to be reliable, are not necessarily all-inclusive and are not guaranteed as to accuracy. As such, no warranty of accuracy or reliability is given and no responsibility arising in any other way for errors and omissions (including responsibility to any person by reason of negligence) is accepted by Silverlight Asset Management LLC, its officers, employees or agents. This post may contain "forward-looking" information that is not purely historical in nature. Such information may include, among other things, projections and forecasts. There is no guarantee that any of these views will come to pass. Reliance upon information in this post is at the sole discretion of the reader.​​